We help businesses maximize their brand.
When your fans are connected to you through various social media platforms, your brand power and reach grows significantly. Social Media is one big potluck. People are putting in their two cents about your product or service, whether you're active in the online community or not. So if you get involved and contribute, you're flirting with your fans and giving them what they want: YOUR attention. And what better way to express your gratitude.
Let us help you with your social media and online marketing needs in Boulder, Denver, or anywhere in the great state of Colorado.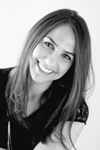 Sani Golriz
I'm originally from Southern California, but have become very comfortable living, working, and playing in Denver. Exploring Colorado's natural and pristine environment through camping, climbing, and other recreational activities has become a pastime for me. When I'm not outside, I enjoy cooking, wine tasting, and spending time with my boyfriend, Tyler and border collie, Chico.