Twitter can definitely help propel your business forward; however, tweeting occasionally to get followers and getting your message out isn't always enough.
You have to understand your target audience: what they like, value, and enjoy seeing in their Twitter feed.
Make no mistake about it, if you tweet just for the sake of tweeting (without having much of a purpose), you can alienate your followers to the point of unfollowing you.
This is somewhat of a tangent, but an important side note: I have a fairly low tolerance for annoying Twitter behavior.If someone is tweeting more than once an hour (and has nothing smart to say), I will un-follow them. If they send me an automatic Direct Message (DM) after I follow them, I will un-follow them. If they don't have a bio, I won't follow them. Simple as that.
With that said, here's what I think you should do to gain followers and keep them engaged:
1. Do Your Research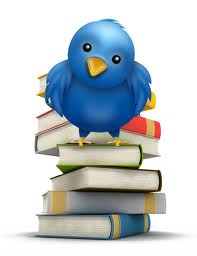 You must learn who your target audience is so you can market to them efficiently. Understand what sorts of things really move them and what pushes their buttons.
Find out who your competitors are and how they are promoting their products and services. Are they successful? If so, you might want to take their strategy into consideration when forming yours.
Of course you don't want to do exactly what they do, where's the originality in that? Be creative and put your own spin on it. Something that exudes what your brand is about so that you can gain a competitive edge over your opponent.
2. Form Your Strategy
How often will you tweet? Which days? Which hours? Does this level of specificity matter to your business? Does it matter to your audience? How often will you take time to engage with your followers, listen to what they're saying, and interject when it's appropriate?
I have an 80-20 rule with Twitter (as well as other social media platforms). 80% of what you tweet should be non-promotional (engaging with followers, asking questions that don't necessarily pertain to your business, responding to photos, joining in various conversations, etc.).
The other 20% is promotional. This will be everything that relates to your business and what's going on that day, week, month, etc.
Don't make it all about yourself. There's a reason why Twitter is a social media platform. It's intended for people to be social!
When you're looking for people to follow, use Twitter's search feature as well as a third-party one.
Twitter's feature isn't great, unfortunately. But there are plenty of other applications that can help you find the type of people you're looking for; whether by location, industry, interests, etc.
3. Let People Know Who You Are
Tell people you know that you're on Twitter. If you have a place of business, perhaps you want to tell your customers that they can follow you on Twitter for the latest news, updates, specials, promotions, etc. that you're running. You might want to make Twitter only specials to give fans an incentive for hopping on and following you.
When you first sign on, you'll need to start following people and tweeting (obviously). The only way to get the initial influx of followers is by following others. You will probably want to follow industry professionals, people who are interested in your field, your competitors, etc.
4. Be Social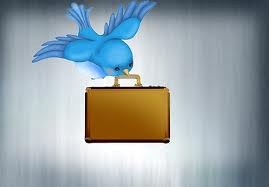 There are pros and cons to being a small business on Twitter. The pro is that you have the opportunity to develop online relationships with followers by thanking them for following you, responding to their tweets (if you have anything meaningful or relevant to say), answering personal as well as business type questions and tweets, commenting on plain old conversational tweets, etc. There's so much opportunity on Twitter to build awesome relationships.
The con is that it's a little more challenging to build followers at the get-go because you'll be starting at the local level.
In order to get a solid following, you must 1) follow others 2) look through your Twitter feed several times a day (I'd suggest the last  three hours of the Twitter feed), and 3) comment on the tweets that appear in the feed. Commenting means you're engaging others, and others will just eat that up. They'll realize that you're listening and follow you back.
5. Be Consistent
If you start a Twitter account, visit your feed several times a week. I'd recommend at least 4 to 5. During this time you look through the feed to see who you can respond to, follow people in your area/field, and thank fans for following you.
You can also promote what's happening in your business. But remember the 80-20 rule. Remember that if you're not following proper Twitter etiquette, you might get dropped!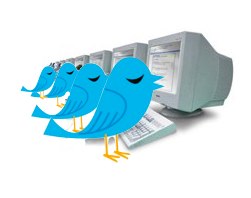 6. Measure Your Value
I use Sprout Social for my clients. This application allows me to have multiple (more than I need, really) profiles and manage them in one place. I add all of the networks my clients are on (using different logins, of course) and post/tweet, etc. using their features.
You can also schedule your messages to occur in advance. One of the great things about Sprout Social is that it tells you what type of influence you're having, and details your analytics so you can evaluate what is working and what needs modification. It will also tell you who you're following but isn't following you and vice versa
There really are a multitude of ways to use Twitter in your marketing strategy. These are just the tip of the iceberg.
Please share your best Twitter marketing tip in the comments below!