We have all manipulated our social media accounts and sites to get our names high on the rank list. But what many have not considered in this equation is how powerful author rank is with Google+1's and the infamous 'likes.'
Using Google+ for Better Rankings
With accounts on both Facebook and Google+ in addition to using Google as your web browser, you are already set to improving your rank with Google. Haven't created any Google+ pages? Now's a good time to start doing so. Once you are logged on to your Google+ account, scroll the page down and on the left there will be a 'More' link, which you will click on and then find 'pages'.
Here, you can find instructions on creating your first Google+ page and start improving your rank. So how does this social media
channel help? Google gives precedence to links that are used to and from its own social platforms.
If you want to share your post on Facebook, consider linking it to your new Google+ page and in turn, linking your Google+ page back to your Facebook pages. This in itself creates an interlinked network that can easily be identified by the Google ranking program. In simple terms, create original content on your Google+ pages and share it to and from your other social media accounts.
Another way to use Google+ for maximization is to register your site with Google Webmaster tools. WordPress blogs already have plugins available you can use to do this automatically. Really want to optimize your blog or website? Add a Google+ chicklet on each page of your site, not just one. In fact, go ahead and add the +1 link on all your accounts, once again playing into this interlinked network you are building between your accounts.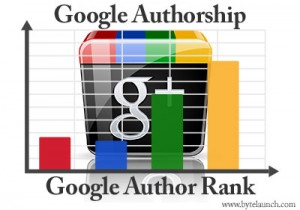 So what about the content you are creating on your site and authorship? First of all, authorship requires a few things. First, make sure you have an email address on the same domain as your content, so for instance stacy@colors.com is on colors.com.
Then, make sure that for all content you publish, you create a clear byline that YOU are the author. Next, you need to submit your email address at the Authorship page.
You only need to register your email domain once on the authorship page, regardless of how many articles you post. Any time you publish articles on other sites, make sure to add 'Author=yourname' and yourname being your Google+ login. This is ideal for guest blogging.
Eventually the Google search engine will have enough points to display yourself as an author, and if you have an image uploaded on your Google+ account be looking for that smile to show up next to the results.
Integrating Social Media and Google PageRank
Even though one Facebook 'like' counts less than a Google +1, it is still important to incorporate this into your strategy. Just like a bicycle will probably go faster than a unicycle but you can still ride on one wheel, all of the components in coordination with each other will streamline and boost your rankings.
It's no surprise that the king of rank and unstated king of authorship is going to place higher value on their own social media platforms, but you can still flourish on your favorite platforms, just make sure they are Google connected.