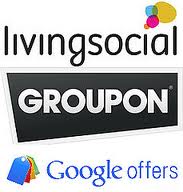 I decided to do a cost-benefit analysis on Groupon and other deal sites like LivingSocial and Google Offers. I wanted to determine how beneficial or detrimental these discounted venues would be for local businesses.
I wanted to compare these sites with Facebook Ads to see what would be the best course of action for a business. In all honesty, I performed this analysis for an established restaurant client of mine.
I made general assumptions in the following hypothetical scenarios, so please consider that and run your own analysis when determining what the best marketing strategy for your company is.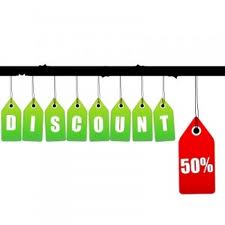 For the purposes of this evaluation, Groupon will be the site I name, but it will be synonymous with Google Offers and LivingSocial because they all work in similar ways (the main difference being when & how frequently they compensate the business that uses them).
What is Groupon?
Groupon ("group coupon") is a deal-a-day site that offers certificates at a deeply discounted rate. To use Groupon, the consumer visits the site, registers, and enters their location.
Thereafter, Groupon emails the consumer discounts in his or her area that reflect the consumer's specific interests.
Businesses use Groupon as a marketing tool to bring in an influx of (new) customers. They discount their products or services considerably to appeal to their target audience.
Do deep discounts, like the ones that Groupon has to offer, make sense for restaurants and other product-oriented businesses? Let's take a look:
Groupon Analysis
We'll assume that a restaurant's total cost of sales is 75%. For every dollar the venue brings in, it costs $0.75 cents to deliver goods & services.
If using Groupon, we will assume the coupon is for $50 & discounted at a 50% rate. So, the customer is buying it for $25.
Deal sites generally take half of this amount, so it is costing the restaurant $12.50 per customer to sell the Groupon. Taking all of this into consideration, in order to recoup the cost of the Groupon, the restaurant will need a 200% return ratio.
That means that every customer who redeemed the coupon must come back twice for the restaurant to break even! This is also assuming that all Groupon customers are new, so you must also weigh in this opportunity cost: current customers would have come in anyway and paid full price.
In the real world this could be a substantial number of Groupon purchases where existing customers would have paid the full amount anyway.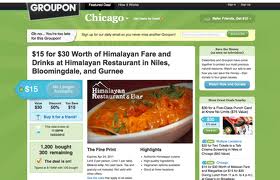 If you're a new business, this might be a good avenue for you because you'll bring in new customers that you may have otherwise not had.
But for an established business it doesn't always make sense, especially for the restaurant industry with a lot of overhead.
Service industries where the overhead is constant, such as massage therapy, might make a lot more sense because they are not paying as much overhead and no variable costs.
They are not losing money on goods and services they have to deliver. Rather, they are discounting the value of their own time.
Facebook Ads Analysis
Facebook ads are targeted to the demographic that would be most attracted to your products and/or services. Facebook ads are a little harder to analyze because of the subjectivity involved.
If you're not familiar with how they work, you are either setting up a cost per click, or cost per impression system.
Both of these systems are highly dependent on the timing, competition, keywords you use, targeted audience, etc. But, we'll make a few assumptions anyhow.
We'll assume that a restaurant is offering a 50% coupon, which to the customer looks the same as the Groupon. To advertise this and reach people you would otherwise not have access to, you could set up a Facebook ad.
Let's assume that the ad costs a restaurant $0.25 per click (which varies depending on the variables stated above). Meaning, if someone clicks on your ad, Facebook will charge you $0.25 whether or not that click turns into a sale.
In this scenario, instead of going to Groupon to set up your deal and giving them 50%, you're offering a deal directly to your customer and only paying Facebook a small fraction.
This changes nothing for the customer, but everything for you: you're not paying the deal site. Rather, you're paying for the click. Assuming your ad is optimized and efficient, we'll assume that 10% of clicks obtain the coupon and use it.
In this case, you will need 120% of the people to return to your venue in order to recoup the costs lost through the discount and clicks. This again is making the same assumption that all your new customers are new.
It seems that for an established restaurant that wants to drum up some new business, Facebook Ads may be the better bet. However, if you've just set up shop and know that the opportunity cost would be minimal, Groupon might be the way to go.
The decision would inevitably depend on your industry and the scenario. In the end every case is completely different, but it's important to think of these cost-benefit analyses when deciding how to use your limited marketing budget.