LinkedIn is becoming the major networking website for businesses. It has grown from simply being a collection of resumes to a beneficial tool for furthering one's career. By taking advantage of LinkedIn's features, professionals can improve their profile and network. Here's how we recommend using LinkedIn:
Improve Your Profile
The first step to improving a profile is to add a professional headshot. Profiles with photos have been reported to get more views than pages that lack them. Profile photos should be clear, simple, and industry-appropriate and should not have other people in them.
Although professional headshots are not necessary, do try to use a photo in which you are wearing business clothing. A customized URL also adds a sense of professionalism to your profile. With a customized URL, a profile is easier to find and it is much cleaner when sharing the link.
A profile also needs to be easy to scan. If yours is full of long paragraphs of text, it will discourage recruiters and other viewers from reading your page. By spreading out information to separate sections, it will be easier to navigate.
While distributing information, be sure to fill in the "Summary" section. It is the first impression of a profile, so it is a great place to add important keywords to attract recruiters and improve search engine optimization.
Monitor Views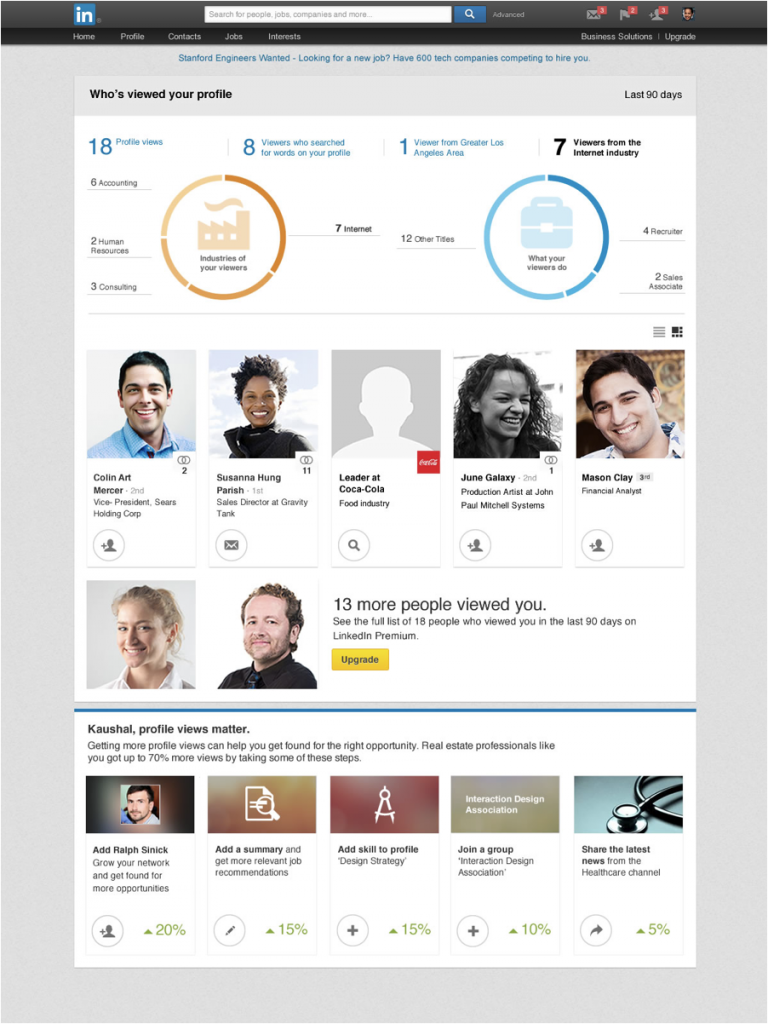 Once other users visit a profile, more information about how they got there will be available. Once the updated "Who's Viewed Your Profile" feature has been rolled out to all users, it will be easier to find out how others found a profile and what industries they are in.
The feature offers personalized tips for attracting more viewers and estimates how your viewer count will grow once their tips have been implemented.
Share Content
Share relevant articles/write your own: LinkedIn has also recently released a publishing platform, a new blog style feature for professionals. This feature can be utilized to add more individuality and professional knowledge to a profile. Facebook and Twitter posts are generally made up of amusing content, making LinkedIn the place to share professional content.
Share relevant articles, videos, and information about a new project or job to add more flair to your profile. "Influencers", such as Bill Gates, President Obama, and others, have been posting their own content to promote the feature and improve engagement.
Follow Influencers
As previously mentioned, Influencers have been added to LinkedIn to share their stories and original content. The Pulse page gathers this content and organizes it into collections. Once an Influencer has been followed, their posts will appear on the updates feed and on your profile, showing other viewers your interests.
Join Groups
Another way to increase viewer count is to be active in groups. According to LinkedIn, users active in groups are viewed four times more than those who are not. Start by reaching out to your alma mater, company, and other relevant industry groups. These groups are a good place to find industry tips and available jobs.
Manage Connections
When adding a new connection, personal messages can be added to the request to introduce yourself and share why networking with you would be advantageous. Once connections have been made, users may come across connections they do not want to keep any longer, for one reason or another.
LinkedIn has finally added a "block user" feature to help with this. Once this feature has been used on a connection, they will no longer be able to view your information.
Endorse connections
LinkedIn also offers a feature to add endorsements and recommendations to a profile. These can be another way to strengthen a connection and the favor will likely be returned as it establishes credibility. These should be unambiguous and brief recommendations; feel free to add anecdotes as you see fit. You may also ask previous employers for recommendations, which only add more authority.
Take advantage of job listings
Another beneficial feature of LinkedIn is the job listings page. This page helps employers as well as those looking for jobs. Searches are recommended based on profile information but keyword searches are also available.
LinkedIn also searches networks to find job openings. Employers can find potential candidates and post their own job listings. All of the searches are hidden and private.
LinkedIn Publishing Feature 
Great news! Publishing is slowly being rolled out to all LinkedIn users, so you can publish blog posts on the site itself. This could be very powerful for your brand if done properly. Social Media Examiner shares tips on how to leverage this change.
LinkedIn is a rapidly growing professional networking platform. Its new features can be beneficial in expanding your network and strengthening your profile.