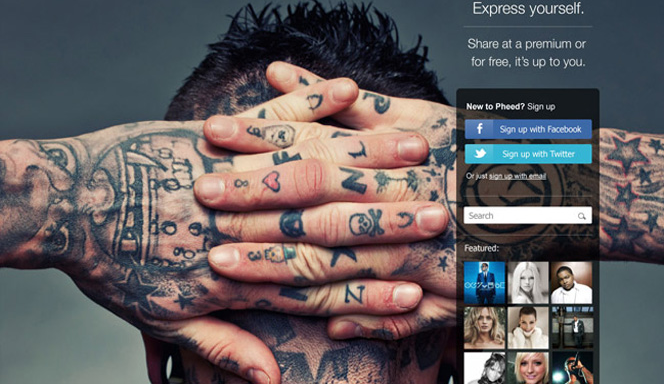 Is Pheed the new Twitter?  This was the question on all of our minds in November 2012 when the new app was introduced into the social media sphere. Shockingly enough, Pheed is now the number one social media app in Apple's App Store and giving apps like Facebook and Twitter a run for their money.
The social media platform, which combines many attributes of other social media sites, has skyrocketed in popularity due to teenage demographics fueling the app's extreme growth.
Since Pheed's launch, the app has grown steadily holding a long-term place on Apple's Top Charts, as well as the top 100 apps in
over 30 countries, within weeks of its inception.
The app, which now has over a million users, seemed to gain supporters from positive reviews on other social media outlets such as Twitter.  The iPhone app also has over 1,500 reviews, more than Twitter's, and has an impressive 4.5-star rating.
Operating under the catchphrase, "A New Way to Express Yourself," Pheed allows users to do exactly that by uploading photos, text, videos, audio, or a live broadcast.  While other social media sites offer some of these features, most sites don't offer all…until now.
Founder O.D. Kobo explained that the Pheed team took to Twitter, Tumblr, Facebook, and Instagram for inspiration, and incorporated the best attributes from each.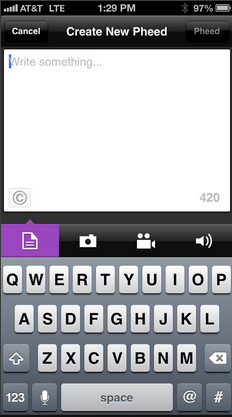 A super cool feature:  The app allows users to put a watermark on their content so they always have ownership of it.  When users compose a new Pheed (similar to composing a tweet) they have the option to use the © button that's provided to copyright the creation.
Other interesting features: While uploading photos and videos is the norm on social media apps, not every app allows you to upload audio—Pheed does.  You can record your audio on the app and give a caption to go with it.