Only my closest friends and family know about my dive into the realm of social media, so I thought I'd share a little bit about how I got into it with some of my peers, colleagues, and potential clients.
I moved to Colorado in September 2010 with high hopes of starting an elementary teaching career. I was in the process of obtaining my Masters in Education online, and because my boyfriend, Tyler, got into an MBA program in Boulder, it was a no brainer to move with him. Moving from California, where the teaching market was almost impossible to penetrate as a new hire, seemed like a good move at the time. As it turns out, Colorado isn't that much easier in terms of finding a teaching gig, these days at least.
While my degree was in progress, I started working part-time as an assistant for a local artist. My job actually involved a lot of social media work. I also got into blogging about her latest and super innovative project. I learned more and more about how good my writing skills actually were, and it all came together when a division of Good Morning America found an interest in her project through her blog. 

I was truly honored. That not only meant that my writing was good, but it also meant that I had the skills to get people to find what I was writing. In any case, I finished my degree, and because working for the artist wasn't amounting to a full-time job, I was still in pursuit of one. I guess a Masters wasn't enough to acquire a teaching position, so I decided to pursue a Special Education Credential. That would put a feather in my cap.
The feather wasn't quite as appealing to employers as I thought. I applied for countless positions and not one interview ensued. How is that possible? I have a special ed credential, damn it!
After about 6 months of being barely employed and having a boyfriend in the MBA program (who was also not working because of school responsibilities) supporting the both of us, I decided enough was enough. I was so down on myself because I couldn't contribute anything except the occasional emotional breakdown. We had a serious talk and he suggested looking outside the box.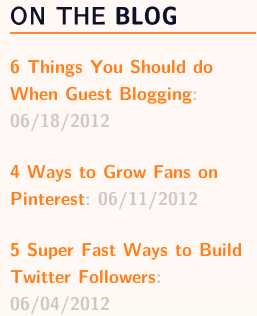 After that conversation, something really clicked. Almost instantly I got hired by a friend's friend to manage his business's social media campaign. This was done on a contract basis, so I worked remotely and did what needed to be done to drum up business for him.
This position paid handsomely and allowed me some time to look for more clients, because I was hungry for more. I decided that if I wanted to be taken seriously, I'd need to invest in a strong website. Consequently, I also invested in books, a few conferences, etc. and essentially taught myself how to be the best strategist and community manager I could be.
In November, I had a graphic designer and web developer do my whole website, which took approximately 2 months. She built it from the ground up, nothing out of a box, completely custom to meet my needs. She worked diligently with me and never faltered. I had made contact with her through a previous client, but because she lives out-of-state, I've never met her. She's my go-to at this point for all design and web work.

By January 10, 2012 (my 30th birthday), my website had launched. By this time I had a handful of clients and was actually contributing something worthy to my bank account. More clients came in after some heavy pavement hitting, and I felt pretty set. Then, everything cruised for a while.
Currently, four of my clients are the ones I initially visited, offering my services because I felt that their social media strategy was weak. The rest, however, are through random chats at coffee shops, meetups, and referrals. By March 2012, I formed my LLC. I was for real.
It's now June 2012, and I'm growing beyond my wildest dreams. It will never be enough, of course, because I'll always want more. But when I started, I didn't have this grand of a vision. I didn't have much of anything. I was just trying to figure out if the business would be lucrative and was hoping that if it wasn't I wouldn't lose much time or money. On the contrary, I've acquired more work than ever before and am putting in about 80 hours a week just to keep up.
I hired my first part-time employee four days ago, so now I have the exciting and very scary job of managing someone.
I realize that although I probably would have been a great teacher, being a social media strategist is way cooler.