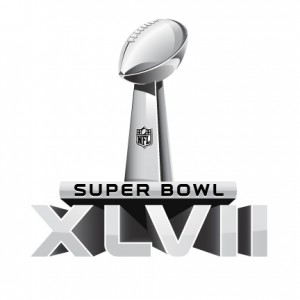 The Super Bowl has always drawn a considerable amount of media attention and hype, but for an event centered on football, the night was stolen by surprise power outages, interesting ads, and a jaw-dropping performance by Beyoncé.
During Super Bowl XLVII, the viewing audience around the world shared their thoughts and opinions via social media sites such
as Twitter and Facebook.  They typed away on their mobile devices during the 35-minute power outage, as well as during Beyonce's mesmerizing halftime performance.
A New York-based company Tendrr, who tracked social media activity related to the game on Twitter, reported that Super Bowl XLVII set a record for the most social media interactions in Super Bowl history, also surpassing any major televised event to date. In all, there were 47.7 million instances engagement during the game between Super Bowl champions the Baltimore Ravens and the San Francisco 49ers.
Last year, the Super Bowl scored 17.4 million interactions on social media outlets, with even less in 2011 receiving only 3.1 social media interactions.  So clearly we are seeing a significant jump in audience interaction.
One of the most notable moments of the night was during the halftime show, when Beyoncé took the stage for her performance. Dubbed the 'Beyoncé Bowl' by her fans, the performance, which lasted between 8:10 and 8:22 p.m., generated 5.5 million tweets.   The performance became the 2nd most mentioned moment of the night just behind the Baltimore Ravens victory.
Instagram also saw record-breaking numbers during Beyoncé's performance, reporting over 200 photos per second were posted of her during her set.
Another notable moment came when the Superdome lost power for a whole 35 minutes during the second half of the game. With no immediate explanation for the cause of the delay, fans and viewers began lighting up the social media sphere with comments and opinions on what was being dubbed the 'Blackout Bowl.'
Surprisingly enough, certain companies were able to capitalize on the blackout by providing impromptu advertising on their social media accounts. Nabisco's Oreo cookie was among the first to jump on the Twitter bandwagon with an ad featuring the cookie on a partially blacked out page.  The ad read, "You can still dunk in the dark."
The power outage was certainly one of the top Twitter-related moments of the Super Bowl, generating 231,000 tweets per minute as the San Francisco 49ers and the Baltimore Ravens lingered on the field, waiting to resume play.
Other big moments of the night included a 108-yard kickoff return for a touchdown by Jacoby Jones of the Baltimore Ravens, who set an all-time record. This record-breaking moment racked in about 185,00 tweets per minute. Among Jacoby Jones, Super Bowl MVP Joe Flacco was one of the most talked about players on Facebook and Twitter, along with his retiring teammate Ray Lewis.