Instagram recently passed Twitter as one of the world's most popular social media apps, so it's time for companies to up their Instagram game.
Using it properly, you can reach more customers by growing presence, influence, and authority. Note the word "properly"; improper use of Instagram is a recipe for losing the social media presence.
So how do you navigate the world of photo sharing while staying on brand? Here are 10 helpful tips for growing your Instagram account and creating new, effective outreach for your business.
Use Your Bio Link Strategically
The URL in your bio is a powerful tool to tell your followers where you would like them to go. For example, use the bio link to take them to a newsletter sign up landing page, or to check out your new promo video. The link brings more people to your site, and gives them a chance to subscribe to your blog, newsletter, etc. For smaller businesses, this is a great way to gain new leads.
Check Traffic with a Customized Link Shortener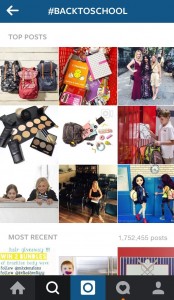 Perhaps the most insightful way to see how your account is affecting your business is through a customized link. For instance, using a bit.ly link exclusively for your bio URL will follow how much traffic your posts are generating. Use the data from the bit.ly to track how many clicks your Instagram account is sending to your website. This will help you determine your strategy moving forward – what's working, what's not, etc.
Hashtags are your Best Friend
Hashtags are only effective if they are relevant to the post and your business. If you need a starting point, take a look at the hashtags your competition or colleagues are using. Moreover, one or two hashtags aren't enough. Research shows that small business accounts that use 11 or more hashtags receive an average of 77.6 interactions. The lesson? Embrace the hashtag!
Trending Hashtags
To take your hashtag game to the next level, do some research to see which ones are trending. Use Instagram's Explore feature to see trending hashtags and determine which are relevant to your posts. Instagram recently enabled users to search for trending emoji's, so the possibilities to reach new followers are limitless.
Share-worthy Graphics
As a visual app, it might seem obvious that your content needs to be visually engaging. You want your customers to stop at your photos while quickly scanning through their feed. Graphic design sites like Canva will allow you to create your own one-of-a-kind designs that make your followers stop and check out your 'gram.
Post a Mix of Videos and Photos
Once just a photo app, Instagram is now multi-media with a variety of ways to share your visual content. It recently released Hyperlaps, which allows you to shoot short videos and even utilize the filter feature to create seriously professional looking shots. Research shows that videos can generate three time more inbound links than written posts, so start adding video to grab more followers.
Create an Editorial Calendar
Instagram is supposed to be spontaneous and a fun way to share what we're up to. However, not everyone can capture every newsworthy moment, which is why an editorial calendar is essential. Gathering and organizing ideas for posts ahead of time frees you from worrying about your next 'gram. Schedule your photo/video posts ahead of time in a calendar. This gives you piece of mind that your account continues running, without being glued to your camera.
Cross Promote your Partners
Instagram is all about sharing the love. When you promote other users, they'll be encouraged to do the same for you. This creates more recognition for everyone because followers from other accounts will check out new suggested accounts. Increased traffic and followers, in turn, create increased awareness and sales for your business: win/win.
Launch a Contest
Everyone loves winning something for nothing, right?  A giveaway is perfect for attracting more followers to get them talking. Some easy contest ideas are "like to win," or "share to win." Hashtag contests are also fantastic, because they encourage engagement. Ask your followers to post photos using a specific hashtag, then pick the winner from the bunch.
Cross-Promote on Other Social Media Sites
Don't be limited to sharing only on Instagram. One of the best features of the app is sharing your post to Facebook and Twitter. Yes, Instagram surpassed Twitter, but it hasn't completely fallen off the Internet. You already have a solid following on your other social platforms, so why not tap into that resource by introducing them to your Instagram? This encourages your followers to share with others, leading more traffic to your account.
Instagram is a fun and powerful marketing tool if used strategically. Connect with your followers on a different level by creating trust and confidence in your brand. Show your fans that you keep up with current trends and want to share your brand with them. Most importantly, don't forget to have fun with your posts! Instagram was made to share experiences through the eyes of our photos.