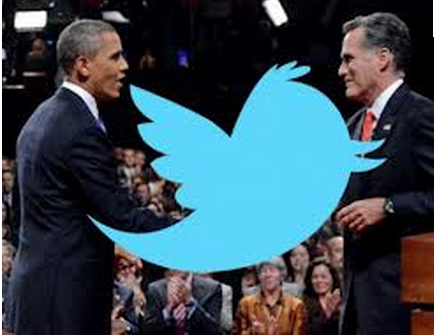 Wednesday night's presidential debate that took place at Denver University between President Obama and GOP presidential nominee Mitt Romney, has officially been deemed the most tweeted about event in U.S political history.  The presidential debate even topped record numbers that were set from the Republican and Democratic National Convention.
Twitter reported 10.3 million tweets were sent over the entire 90-minute debate, with tweets peaking around 9:53pm. Updates about the official numbers from the presidential debate are recorded and updated from the Twitter Government & Politics Team, who's jobs is to track creative and effective uses of Twitter for civil engagement.
The 2012 president debate even shattered records that were recently set by Obama himself at the Democratic National Convention racking in 52,757 tweets per minute.

The most notable moments, revealed by Twitter came when: moderator Jim Leher responded "lets not" to Mitt Romney when he requested a topic, Obama joking he was only given "five seconds," and during their discussions on Medicare.
After Romney's remarks on Big Bird stating he "loves Big Bird," but still plans to cut subsides on PBS, Twitter blew up with remarks from debate viewers.  According to reports by Twitter, 17,000 tweets per minute mentioning Big Bird were tweeted.  A great deal of attention was also paid to moderator Jim Leher, with most people commenting negatively on his performance for being too lenient on the candidates.  Users dubbed him "Poor Jim", which began trending.
The presidential debate broke all previous political records before the actual debate even began.  24 hours prior to the event, the 2012 political debate shattered all four 2008 debates in terms of the number of tweets generated.  Despite the fact that Twitter had just got off the ground in 2006, substantial numbers suggest that this election has people involved and engaged in ways our country has never seen before.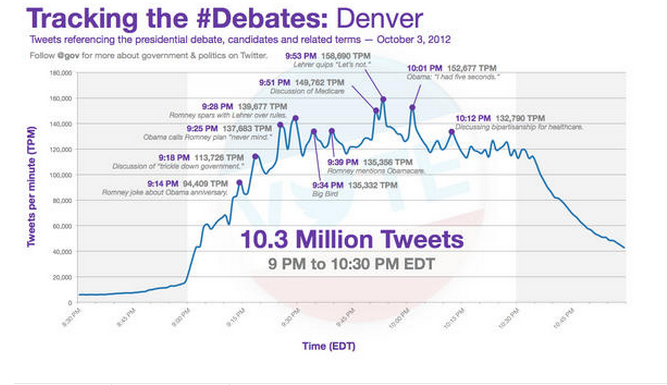 Until recently, viewers would have had to watch the entire 90-minute broadcast before hearing official analysis and reactions, but all this changed with the birth of Twitter.  The social media site allows voters to engage in an ongoing political conversation instantaneously, and is available to anyone who is interested in joining the network.