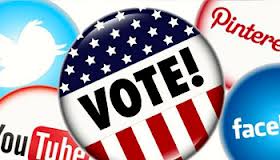 Like a frog in slowly warming water, we've often failed to notice the immense changes in the way we've used the Internet over the years, and just how quickly sites like Facebook and Twitter have worked their way to the center of our lives.
Now that almost all of us (taking 'all of us' to mean those of us in the western world with easy access to the Internet) use Facebook on a regular basis, it's easy to imagine that we always have. It's easy to forget that there was a time before Facebook, Twitter, Instagram, and similar networks.
As recently as the 2008 US election, though, the landscape was very different. Back when Barack Obama first told us 'Yes we can', there were a paltry 100 million users on Facebook. Twitter, at the time a fresh faced startup, only had around 3 million users when Obama faced off against McCain. Both sites were growing quickly, of course, but they had yet to achieve ubiquity.
By 2012, Twitter had grown to 140 million users, and Facebook to an astounding one billion. Instagram and Pinterest burst onto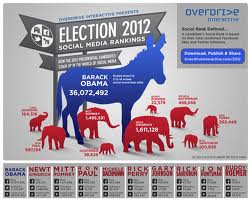 the scene, adding a welcome visual element to social sites, and for the first time through the long, grueling election cycle, the users of social sites weren't just trendy early adopters, but Savannah housewives, Detroit autoworkers and, not to put too fine a point on it, your grandparents. Today for the first time social media sites such as Facebook have become Main Street, USA, a microcosm of the nation as a whole.
Naturally, then, these sites played an important role in the 2012 election. They presented users the opportunity to tout their political beliefs, share breaking new,s and even (in theory if not, perhaps, in practice) change minds and sway voters towards their way of thinking. They became the town square, the venue for the battle for votes, and the site of countless grass roots movements.
The most interesting development during this election was the way in which the electorate shifted their focus from an increasingly fractured and partisan mainstream media to social networks, transforming from consumers of news to providers and sharers. Sites like Facebook and Twitter played host to countless spirited political debates between supporters of Obama and Romney, and perhaps more importantly included the undecided and disinterested.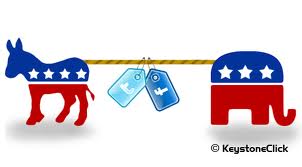 And this, of course, is the largest point. While avid supporters of President Obama and Governer Romney were never likely to have their minds changed by anyone, the debates playing out on social sites for perhaps the first time drew in politically apathetic users.
Viral tweets, Facebook posts about breaking news and inspirational Instagram photos of proud Americans stepping out of voting booths were forced on those who usually steer clear of the political world. In fact, President Obama's first public announcement of his re-election became the most re-tweeted and liked posting in history.
In the aftermath of the election we face a very different landscape. From here on in it will be impossible to avoid the world of politics. We can switch off our TVs and flip straight to the sports section of the paper, but if we want to use social networks we'll have no choice but to engage with the fire and passion burning in the hearts of the politically motivated.
In an era in which voter turnout is lower than ever and elections are won and lost on the motivation of the unmotivated, this can only be a good thing for a strong, healthy democracy. The only question is how much more important social media will be in four more years.