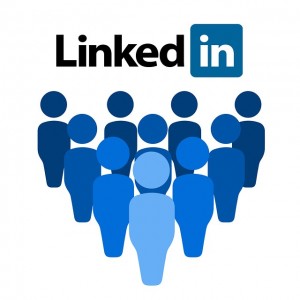 Also known as Hero Images, LinkedIn had previously allowed their premium account holders to use larger header images and are now working to release this feature to all users.  Utilizing this header image feature allows business pages to further their branding strategy and increase their visibility among the other LinkedIn users.  For reference, these header images will look and function similarly to the banner images on Facebook or Google+.

As they are still in the process of rolling this feature out to all users, you may not yet be able to take advantage of the header image.  Keep checking your profile, and once you see a large blue space at the top of your profile with a box saying "Edit background", you will be ready to upload a header image of your own.
You will have the ability to create and upload any custom image that you may want for yourself or your business, and LinkedIn will also be providing different stock images that you can use if you want a placeholder.
If you don't have the Photoshop skills to create an image of your own, there are many graphic design companies or freelancers that can work with you to create a great header image to use.  Just keep in mind that the size limitations will be 1400 pixels by 425 pixels.  (For more information the dimensions or for sample templates, click here.)
When creating the image, make sure that the graphics and/or text used not only shows the personality of your business, but also communicates your mission.
Since the header images can be changed anytime you want, you could also have several different images that promote an upcoming event or communicate special sales.
While adding text to the image is certainly a good and encouraged practice, it is important to know that any text used in these images will not be included in search engine results.
There are thousands of possibilities out there with this new header image feature, so take the time to figure out what you want to say and how you want to say it.
Upload different options, test as you go, and tweak each image until it achieves the desired effect.  Whether you decide to use this image to make your company look more personable, stand out from your competition, send out news, add value to the customer, encourage a call to action, foster communication, or communicate an idea, the header image feature is too great an opportunity to pass up.  Take advantage of it!
If you want more information of how the new LinkedIn header images work, or some ideas on what to do with your own header image space, please contact us!